For sale
The following items are offered for sale by Club Members.
Please read our Terms and Conditions before making any enquiries or purchasing anything offered for sale on this page.
MG RV8 - red 1992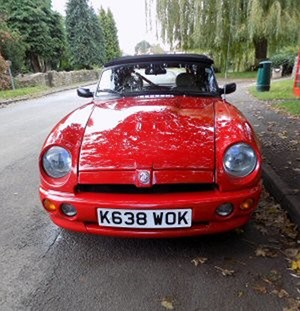 1992 MG RV8, K638WOK, Vin 900000, Body No 1
This is the first correctly-bodied RV8.
It was used by engineering for spec, homologation and service.
Historical vehicle retaining lots of original features, plus a considerable amount of documentation.
There is more information on the V8 Register web site: Rare pre-production RV8 for sale
Sale is by auction with Classic Car Auctions.
For further information about this car, please contact Classic Car Auctions directly.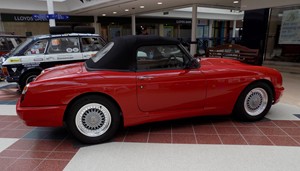 MGB Roadster 1972 British Racing Green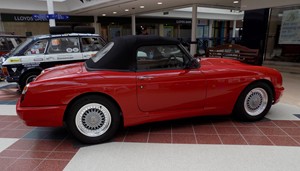 MGB Roadster 1972 British Racing Green, with wire wheels. Heritage body shell, Club green leather seats with head restraints, walnut dashboard and door cappings, recently resprayed. Stainless steel exhaust. Half tonneau (green) and full tonneau cover. Owned 7 years. 12 volt battery professional conversion w/new batteries. Dry weather use only. New wire wheels and tyres when bought (less than 4000 miles). Engine compartment is immaculate, 44k miles (but not warranted). Service history. Beautifully presented, ready to drive away.
Agreed value is £22,000, sale to MGOC members at £18,000.
Contact: Neil Sutherland 07539 170526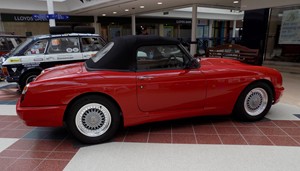 Terms and Conditions
Please note that all items for sale are the sole responsibility of the member placing the advertisement. Any communication about these items should only be with the member placing the advertisement, or their nominee as indicated in the description and not with the Webmaster or any other Club committee members.
Any contract entered into is solely between the member placing the advertisement and the purchaser, or auction house if offered for sale by auction.
The Club does not accept any responsibility for the accuracy of descriptions, for the condition of the items or for any other matter arising from the purchase of anything advertised on this website.